Sotogrande Golf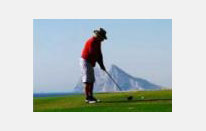 Sotogrande Golf offers probably the best example of upmarket residential golfing on the whole of Spain's Costa del Sol. Development began in the early 1960s when a site of exceptional natural beauty was cleverly developed thanks to some first class landscaping.
As well as its beauty, Sotogrande Golf is home to two of Europe's top golf courses, the Sotogrande Old Course and Valderrama Course which was home to the 1997 Ryder Cup and hosts the Volvo Masters.
The town is surrounded by over 60 further courses between Sotogrande and Marbella to the East. Some are listed below for information but all are all less than one hours drive from Sotogrande by motorway.
The whole area is well appointed for Golf shops offering equipment and clothes for the discerning golfer.
One of the famous courses in the world since the 1997 Ryder Cup, many golfers find it irresistible to play at least once. Dramatic, demanding, beautifully maintained but maybe too demanding for novices at times.
Real Club De Golf Sotogrande
Also known as Sotogrande Old Course - the original course in Sotogrande, membership is now highly sought after. Classily understated and serene, especially compared to its more brutal neighbour, this is a course to savour. However, like Valderrama, the course is immaculately maintained and they make a wonderful pair of courses to play side by side.
Almenara Club De Golf
Sat alongside its illustrious neighbours, Almenara may yet establish its own reputation. It comprises 27 holes arranged as 3 x 9's around the 5 star Almenara Hotel. The terrain and existing cork woods have been used to maximum advantage while no expense has been spared to build lakes for other holes to wind around. This isn't an easy course but there is no doubting the quality.
Club De Golf La Canada
This is one of the main municipal courses on the Costa del Sol and is well worth playing. The original 9 holes have been extended to 18 holes with new impressive club house. The views are excellent from its elevated position and the 9th is perhaps the most intimidating tee shot in Sotogrande!
Book online
Click here to book golf