Sotogrande Sailing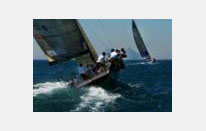 Sotogrande Sailing is extremely popular in the stunningly beautiful port of Sotogrande, you can sail two continents, two oceans, and four countries as part of your sailing experience. You can take your R.Y.A courses in the waters of Spain, Morocco, Portugal and Gibraltar. Sotogrande is a fun marina, as you can easily spend the day there with plenty of activities for the whole family. There are boats to suit all abilities including catamarans, monohulls, Laser dinghies, open keel sailing boats and sea-going canoes.
The marina area itself is adjacent to one of the two beaches. Fine restaurants and bars line the water's edge. Good taste has been retained as there will never be high-rise developments. With 300 days of sunshine a year, Sotogrande stays active all year round. There is also a wonderful beach with all facilities. Sailing brings pleasure to thousands of people in this part of Spain, but to enjoy the water you can easily join a sailing school in the Marina. The Marina itself has many boats of all sizes from small 20ft day-boats to massive ocean going private yachts.
For a luxurious marine charter we recommend True Blue Charters who provide crewed luxury motor cruisers and yachts. You and your friends are the only ones on the yacht who the crew need attend. The service is professional, personalized and friendly with your own chef exquisite cuisine is available when you want and where you want.
The Sailing School (Escuela De Vela) was established since 1989 and can boast an impressive pedigree, as are all Federation qualified and carry the correct certificates of competence; which brings peace of mind that you will be taught expertly and safely.